The Scottish Heritage Association of Northeast Ohio
Preserving and Promoting Scottish Heritage & Traditions Since 1885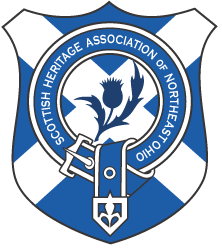 Annual Hall of Fame Award
The purpose of the SHANO Scottish Hall of Fame is to publicly and permanently recognize those individuals or organizations which have had a major and significant impact in the Scottish community.
HALL OF FAME INDUCTEES
1997 ~ Robert Callander (Pipe Major)
1997 ~ William Middleton (Past Chief)
1997 ~ Margaret Callander
1997 ~ Sandy Hain (Pipe Major)
1997 ~ William Duncan (Past Chief)
1998 ~ Donald Skinner (Past Royal Deputy Chief)
1998 ~ John Noble (Past Royal Deputy Chief)
1998 ~ Sally Raitt (Past President, of the Grand Lodge)
1999 ~ Art Sweet (Drum Major)
2001 ~ Debbie Doty
2002 ~ Donald Herd
2003 ~ Allister Wright (Pipe Major)
2004 ~ Joseph Clark (Past Chief)
2005 ~ W. John Crawley (Pipe Major)
2006 ~ Donne Shepperley
2007 ~ Dorothea Kingsbury
2008 ~ Jenny May Caronchi
2009 ~ Fred Sangster (Drum Sargent)
2009 ~ Scott Duncan (Past Chief, Senior Past Chief)
2010 ~ Frances Acar
2011 ~ Robert Durach
2012 ~ Nancy Dinger
2012 ~ Kathleen Donnelly
2013 ~ Florence Duncan
2014 ~ Sheila MacMorran, The Cleveland Kiltie Band, Joseph Nicholls, Kevin McGinty and Michelle Bozeman
2015 ~ Michael Crawley, Lynne May, Michael Mihalic, Tom and Kitty Easton
2016 ~ Jerry Gibson
2017 ~ Diane Klann, Jean and Willie Cunningham, The Lochaber Pipe Band, Bill and Mary Beth Grant
2018 ~ Sandy Hain and the Clansmen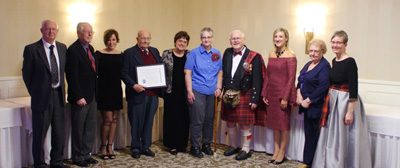 Nomination to the Hall of Fame can be made by SHANO members as well as the community at large. Each nominee should have exhibited contributions to the promotion and advancement of Scottish activities, culture, history, and accomplishment, and demonstrate a fond love of Scottish Heritage. Many factors are considered, such as public communication venues, dance, music, lectures, teaching (Gaelic, for example), playing of the pipes, and excelling as a member of a clan or organization. The key factors that are considered include:
Reach: Includes estimated number of lives touched


Duration: Includes the length of engagement in the activity and its previous and future sustainability


Engagement: Includes the engagement of the general NEO community as well as those involved in the Scottish community


Recognition: Includes peer recognition, organizational recognition and progressive leadership
Nomination and induction into the Hall of Fame does not require SHANO membership, does not require Scottish descent, and is open to all. Individuals holding the honor of membership in the Hall of Fame will receive a framed certificate of membership. In addition, their names are inscribed on a large plaque which is proudly displayed during SHANO's annual Robert Burns Banquet.
All nominations must be received by December 1st for consideration by the SHANO Hall of Fame Committee. The awardees will be announced at the SHANO Burns Dinner which is held in January of each year. Each application will be reviewed without using the candidates name to the Hall of Fame Committee during their review.
Each year, the Hall of Fame Committee, comprised of SHANO members, reviews all nominations for induction into the Hall of Fame. Nominees may be submitted from members, individuals, or other Clans and organizations, for consideration for election into the Association's Hall of Fame. The committee is appointed by the SHANO Chief and is comprised of a minimum of two past inductees, and the Chair, a SHANO officer. The SHANO Clan Chief also acts as Chairman Ex Officio.
For more information please email Halloffame@scottishheritageohio.com.
---


© The Scottish Heritage Association of Northeast Ohio